Do you have questions about our product or its features? Call us today, we will be happy to advise you: +43 (0) 662 456 708
Intelligent Ranking Relevant results first
By way of an intelligent ranking system, the relevant items will be shown in the first results. The search for iPad will thus find iPads and not accessories such as charging cables for iPads.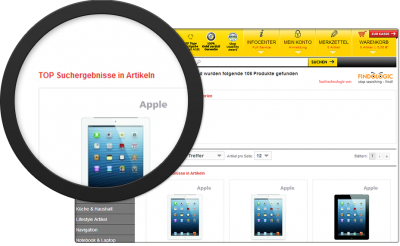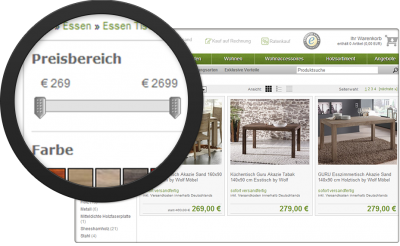 FINDOLOGIC Navigation Intuitive navigation
FINDOLOGIC Navigation allows the customer to intuitively find the item he or she wishes anywhere in the shop – independent of the use of the search function!
FINDOLOGIC Filter Quickly leads to the desired item
Using its intuitive filter, the results are filtered, e.g. by category, producer, price range, features and attributes. This way, out of hundreds of hits, the customer can find the items he or she is truly interested in with just one or two clicks.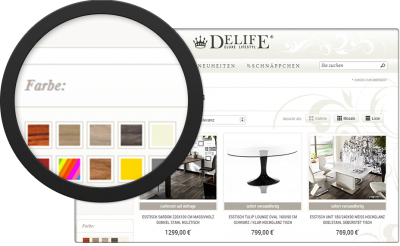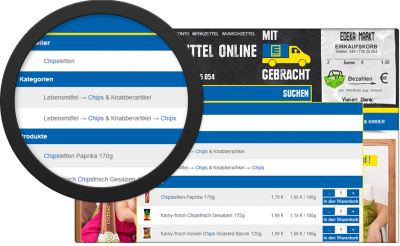 Intuitive Auto-Complete Automated search suggestions
By entering just the first few letters of a search query, related product queries are provided instantly to support and orientate your store's customers. Auto completion includes product, category and brand name suggestions.
Automatic Error Tolerance Results despite misspellings
The search finds the right product despite typos and spelling errors. The search for "tshrit" finds the desired "T-shirt". "Carving knifes" will provide the searched for "carving knives".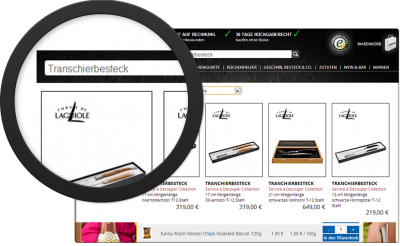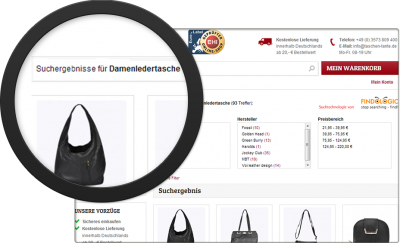 Synonymous Associations Understanding what the customer wants
By way of synonymous associations, the FINDOLOGIC Search always finds the correct item. For example, "cough syrup" also finds "syrup for dry cough" and the search for "womens leather bag" also finds "shoulder bag" in the category "women" with the attribute "leather".
Promotions for Top Sellers Search as a marketing tool
Using promotions, products, product groups and special offers can be advertised in a targeted manner within a search. Visitors to your online store can thus be made aware of products which they had not yet even thought of. Promotions are ideal for products that should get a boost in advertising, especially on strong-selling landing pages.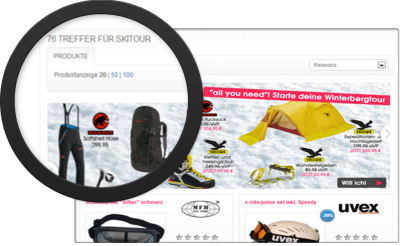 Product Pushing Send items and product groups to the top of the list
Promoting certain items gives online store owners the ability to rank certain items of their choice higher in the search results. For example, all shoes from a certain brand and all pants from a certain category can thus be "pushed" or promoted. This function is advantageous when you want to place your own brand higher up in the search results or if you have particular sales offers running.
Use this feature to ensure that, for example, all shoes currently on sale are ranked higher for the search "shoes" or that the results for the search query "jackets" feature your own brand name items at the top of the list.
Product Placement Targeted sales control
With the product placement function, you can control the placement of individual items. For example, the search results page for the most popular search terms can be defined and thus sales can be directly influenced.
The higher ranking of top sellers, items with high margin or alternative products makes these items more visible for customers!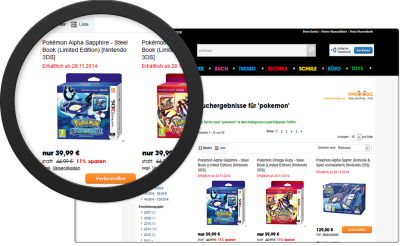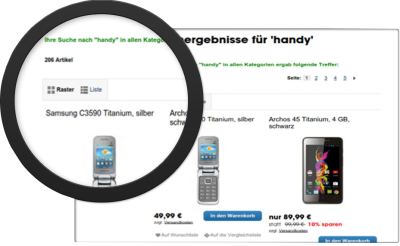 Search-Concepts Make a pre-selection of categories
If your customer is looking for "lace" in a clothing store, then from experience he or she is looking for clothes made out of lace, not for lace shoes.
In this case you can pre-select categories. You can define, for example, that in a search for "lace", FINDOLOGIC should only search in the category "dresses." This way your customer's specific searches can be better answered.
This function is optimal for search terms with multiple meanings or poor data management, which can be optimized by setting up Search-Concepts.
Using Landing Pages Setting up targeted pages for keywords, search terms
Using this function allows online store owners the option of linking a landing page that they have created for defined keywords instead of showing the search results.
This function is particularly appropriate for search terms for which there are no products but a specific page, for example "GTCs" or "Legal". The use of landing pages is also optimal for seasonal items, for example when the terms "Mother's Day", "Christmas" or "New Year's" are searched.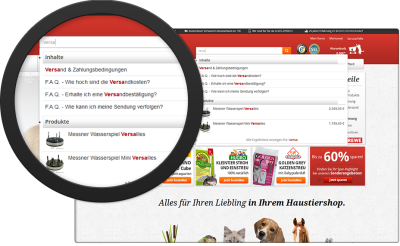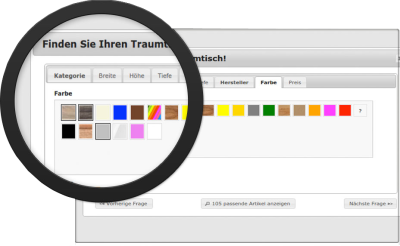 Guided Shopping Fewer steps to the desired product
With FINDOLOGIC Guided Shopping, we have created a function that can be used in a broad variety of ways – all with the same goal: Bringing the customer to their desired product even faster.
Guided Shopping can be implemented in every area of your online store: in the search, in the navigation or on content pages. Here you have the option of defining as many questions as you would like. The answers are based on the characteristics and attributes which have been defined in the online store.