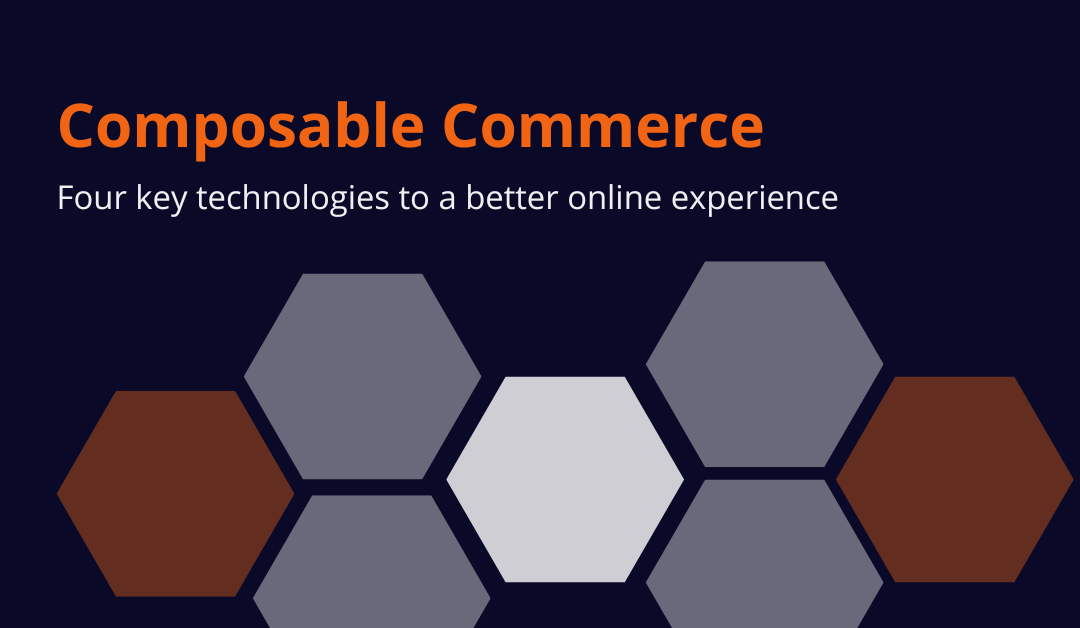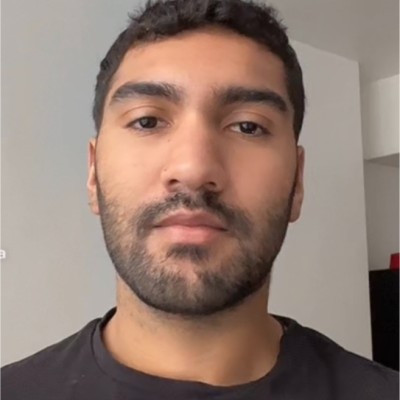 What is Composable Commerce and Why is it important?
What is Composable Commerce and why is it important? 
This is your guide to a harmonious commerce experience.
No single vendor can offer a comprehensive one-size-fits all solution for your ecommerce site.
Building an ecosystem of best-of-breed ecommerce platforms is key for any online retailer that wants to smash their targets. 
Leveraging APIs to improve the transfer of data between the front and back end gives retailers more flexibility to create unique experiences for their customers. 
It's not easy however. Creating a complex ecosystem with third-party providers that work in harmony with one another is a challenge. You have to think about supply chains, checkout, and the on site experience just to name a few. All within budget, in line with goals, and optimisation. 
However, it is the aim of this blog to talk a little bit more about composable commerce, what it is, and how you can strive to build a smart ecosystem 
In this article, we'll look at the top four technologies that make the blueprint for composable commerce, that you absolutely should consider deploying high performance APIs to supercharge success, including:
How to leverage APIs end-to-end and offer an unbeatable customer experience

The top four API technologies you should consider to optimise end-to-end operations

How to utilise these technologies as part of a connected tech stack
But before that, let's talk about composable commerce and what it is.
What is Composable Commerce?
Composable Commerce simply refers to integrating multiple 'best-of-breed' commerce solutions, as opposed to opting for a one-size-fits-all solution.
To give some examples, a retailer might opt for bespoke solutions for shipping, payments, product discovery, marketing, and more, that are 'composed' and integrated with one another to create an excellent shopping experience for the consumer.
How does it work? Rather than one-size-fits-all solutions, composable commerce leverages modern technologies and approaches such as MACH (Micorservices, API, Cloud, Headless), and JAMstack (Javascript, APIs, and Markup) to meet the needs of the market.
The fundamentals of Composable Commerce involve:
Centralisation of business gives retailers flexibility and allows them to make changes business models and create unique experiences without heavily relying on IT. 
Modular architecture supports organisational agility and allows for faster delivery, time to market, and improved experiences.
Open ecosystem allows retailers to benefit from third party applications, pre-composed solutions and best practices.  
Composble commerce involves a packaged approach to business solutions that aim towards future-proofing digital commerce. It achieves this by 'composing' packaged business capabilities (PBCs)
How is Composable Commerce Changing Commerce Experiences? 
In composable commerce, best-in-class technologies from a variety of vendors provide an excellent experience for the consumer.
A typical composable commerce stack might include services covering various capabilities such as Shopware for commerce, Huboo for shipping, Findologic for product discovery and search services, or checkout for – you guessed it – checkout!
What are the benefits of composable commerce?
Composable commerce has several benefits, including:
The ability to enable commerce experiences on any touchpoint

The ability to deliver highly differentiated commerce experiences to engage customers with your brand and products

Enabling highly personalised marketing automated campaigns, or commerce experiences with complex business requirements. 

Staying ahead of the competition with flexibility and speed needed to rapidly adjust to consumer or market demands.
From an IT perspective, composable commerce benefits include:
API-first headless structure without complexity and risk of being tied with a specific vendor, allowing for components to be adjusted as and when required

Responding quickly to changing business requirements

Increased efficiency and reduced maintenance costs
Now that we know more about composable commerce and its benefits, let's break down how you might implement composable commerce by prioritising four different areas in your ecommerce experience:
Headless

Product Discovery and Search

Checkout

Shipping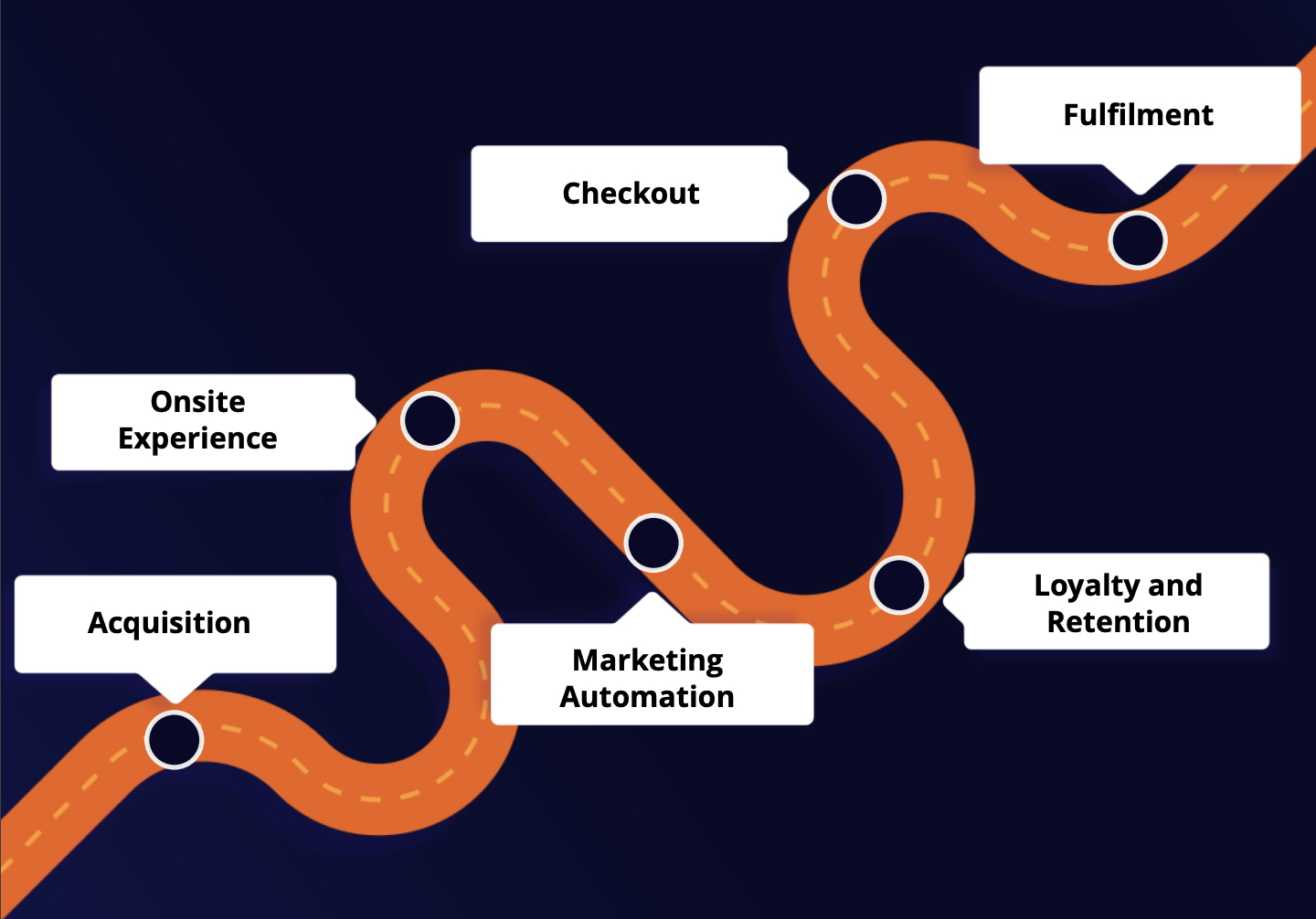 Leveraging headless systems
To start, let's look at headless and what it means.
What is headless? Headless software can function with no graphical interface. Now, this might sound contradictory since computers are built by and for humans, and every computer has an interface, right? 
Of course, there is an admin interface at some point. But the core purpose of headless software is not the lack of a human-usable interface but the presence of a program-usable interface that taps into the functionalities of other software systems. 
Headless is developed API-first, meaning each system feature is first made available via an API. This means that it is capable of transferring data back and forth between a range of softwares without roadblocks.
Let's look at an example to show the power of combining headless services: 
Traditionally, a web shop would be integrated with an ERP system, a payment provider, and a shipping provider. If you decouple this scenario into a composition of headless systems, each integration becomes independent from one another and ultimately more flexible as the web shop would be part of a wider network and can be adapted in isolation, rather than being part of the monolithic centre piece. 
Or perhaps a shop provides the basic logic for the basket, catalogue, and similar functionalities. The front-end is a PWA, but there's also an integration with social media, marketplaces, and a POS system. Since the shop is headless, the interface is no longer tied to its codebase and is interchangeable
With the world becoming more integrated and interconnected every day, providing a headless solution is an important survival strategy for service providers.
At the same time, others providing their services as a headless solution is a prerequisite for success as a global community. Running a siloed, monolithic product is a surefire way to fall behind the competition.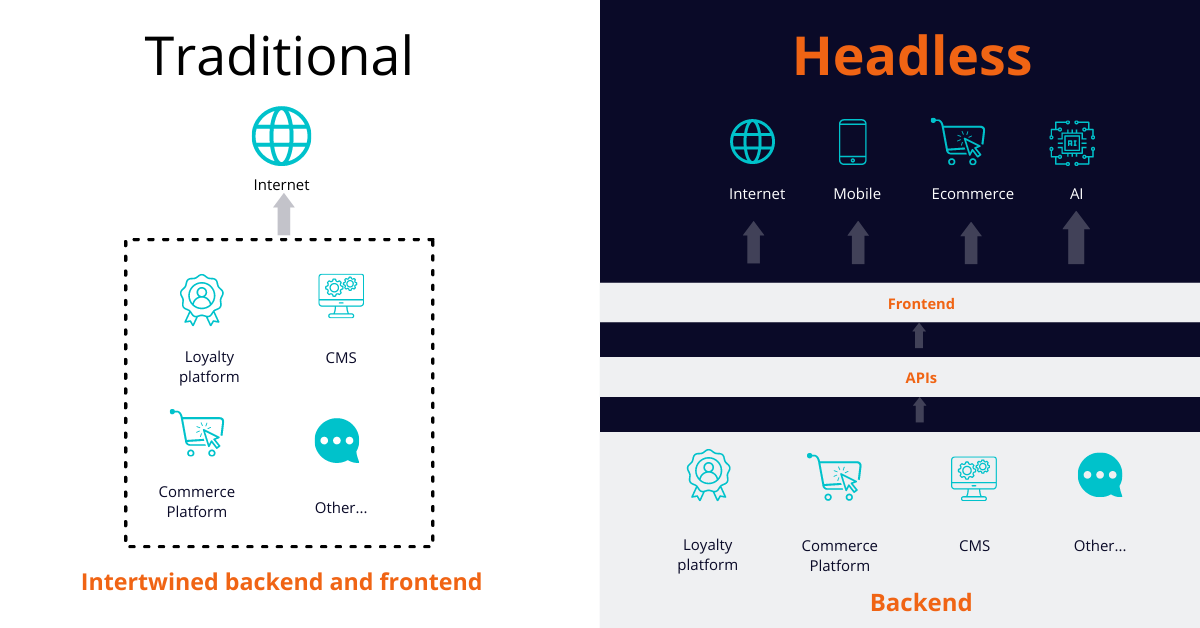 Prioritising Deployment
So, which areas should be optimised through an API integration first? Before answering this question, you need to have a future-proof API. That means you have to think about versioning and access control first. You don't want systems using your API to break when deploying new versions or changing functionalities. 
Once this has been taken care of, you can focus on prioritising deployments. This depends heavily on the kind of retailer you are, but generally speaking, identify the most easily transferable areas to API access as well as which will have the biggest impact on your customers and prioritise these. 
Vendors are full of promises, including seamless integration and connectivity within existing tech stacks, but the reality is that usually, some unforeseen obstacles arise when integrating with a new technology, for example, swapping out the built-in product recommendations with a cloud service. 
So take a look at your business case, look for low-risk-high-reward areas, and start there. Once you have gained some experience, you can fully transition into the sector of modular, high-performance headless networks. 
Robust Headless Ecosystems for End-to End Optimisations 
Customers want consistency. 
They want to discover products, have a pain free checkout and reliable delivery. A great experience isn't confined to the onsite intricacies but the end-to-end journey. 
The web shop is just the interface where all of this happens when your architecture is composed of headless services, you can get closer to your customer by leveraging gold-standard technologies. 
When decomposing your business logic into small, orchestrated parts, you can also re-think the customer journey, creating new touchpoints and optimising them depending on the scenario. 
Most businesses today have a fixed set of possibilities as they're limited by their monolithic setup. After transitioning to being a modular, orchestrated system, you'll be able to configure optimisations far more dynamically.
Each headless service you use is a company that specialises in one specific part of the customer journey and has more data, more resources, and more niche experience than retailers have internally. 
Let's go back to the example of product recommendations in a web shop. A traditional shop knows its customers, what they bought, and the product catalogue. Using a recommendation service means the customer's behaviour is matched to thousands of similar customers, with data from years before. 
This information is used to display recommendations that increase the chance of conversion. Because the service has such an expansive data set, it knows the customer better than an on-premise system ever could.
The same situation happens when thinking of a divided customer base. Let's assume you are selling to customers in the B2B. space It's the same product catalogue in the background but of course, with different demands to B2C. 
With an orchestrated, service-based system, you can swap out and tie different services together for each scenario. There are no design constraints and no need to build a new front-end presentation for each scenario from scratch.
Even though many retailers are transitioning to headless services, this advantage doesn't fade away. With the opportunity to fine-tune and optimise the customer journey quickly, retailers have the tools to create supercharged experiences, rather than trying to move inside the constraints of a static system. 
Something online retailers need to keep in mind is that they will need a platform that ties all of their technologies together and leverages core functionalities such as a composer, that keeps all services in sync. 
When looking further into the customer journey, there will be a number of areas that can be optimised through technology partnerships so it is essential to work with a platform which can successfully support multiple integrations as a connected and harmonic ecosystem. 
Previously we touched upon prioritising the areas that will have the greatest impact, but are the simplest to integrate with. Three tried and tested solutions that fit this description and form a robust basis for any retailer looking to drive end-to-end optimisations include:
Product Discovery

Checkout

Fulfilment
To better. ourunderstanding of composable commerce, let's look at the next piece of the puzzle – ecommerce site search.
Ecommerce Site Search and Product Discovery
Non-existent, outdated or underperforming tech stacks or solutions directly affect sales and loyalty. 
Yet during search usability testing, 19 of the world's leading e-commerce sites' search support was so weak that 31% of all product finding tasks ended in vain. 
All too often we see established brands relying on their strong acquisition strategies and brand name, but this complacency is costing them. 
Products often overwhelm online shoppers. If they struggle to find their desired products, shoppers will abandon their search and your chances of conversion are ruined. 
Product discovery is at the epicentre of a shoppers path to purchase. Connecting your shoppers with the products they want and ensuring a seamless journey has its benefits including: 
Increased conversion

Increased order value

Reduced touchpoints

Decrease bounce rates

Improve retention and loyalty

Enhance brand perception
If a shopper can't find it, they can't buy it By deploying a range of features that are engaged from the very first interaction with the search bar, through navigation and refinement, and on to the product pages, retailers are able to benefit from: 
Search Logic – Employ various search logics such as synonym and typo management to avoid dead-ends and ensure accurate results 
First Click Interaction Display products, recommendations and adverts from the very first interaction with the search bar 
A.I. Driven Capabilities – Deploy A.I. to understand user intent and relieve navigational burden to deliver relevant products 
Personalisation – Personalise recommendations and results 
Merchandising – Utilise merchandising and adverts to increase product visibility and modify hierarchs in line with business goals 
Filters and Guides – Configure relevant filters or guided shopping for intentional refinement 
Mobile UX – Ensure a mobile-friendly interface that supports the contrasting flow states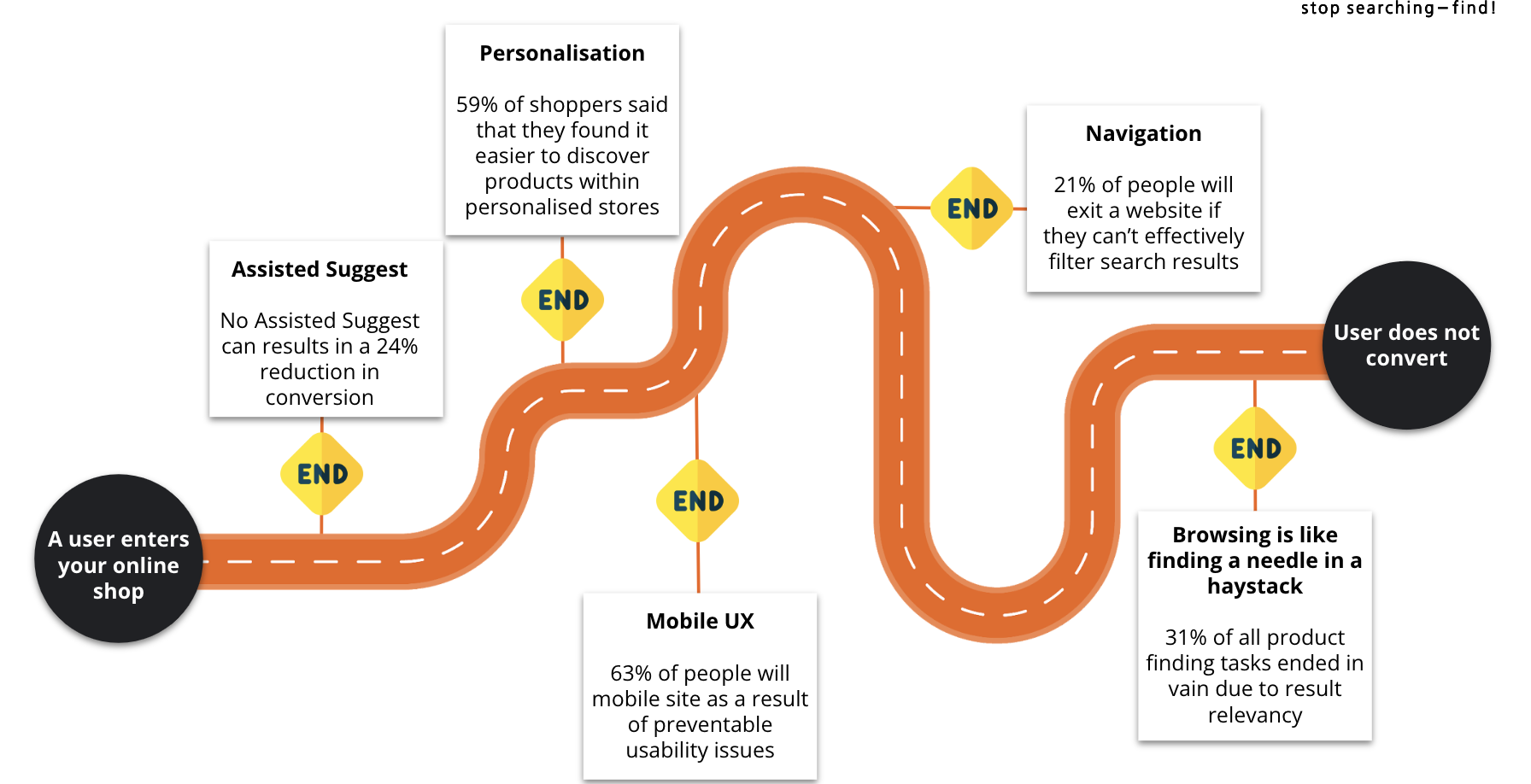 Use Cases 
If you leverage your analytics, you'll be able to identify high severity pain points and trends within product discovery that are impacting conversion. The most common issues product discovery can resolve include: 
1. Short Tail Searches 
Almost 60% of search queries are vague and consist of 1 or 2 words. So, if a shopper searches for 'green dress' for example, there is likely to be a high volume of very generic results in line with the generic search term.
By effectively integrating specific features into search and navigation retailers are able to alleviate shoppers of burden. 
Rather than search for what may feel like a needle in a haystack, by using a combination of features (which we will detail later on in this report), retailers are able to drill down into the products that visitors actually want to purchase. 
There are several ways that by integrating with product discovery, retailers are able to derive value from short tail searches and make the lives of their customers easier. 
By employing A.I. that drills down into user data, retailers are able to relieve shoppers of navigational burden. This is because the A.I. is able to understand user intent by gathering session data and presenting shoppers with products that correlate to this. 
Another way e-com teams can ensure more intentional results when search terms are vague is by offering relevant and intuitive refinement options by configuring results specific to the search.
If we take a look at lingerie retailer, Pour Moi, we can see that they have implemented both A.I. and relevant navigational capabilities which make sense of vague search terms. By connecting users with relevant products that they are more likely to buy, they saw an 11% increase in conversion and a 10% increase in average order value.
2. A high volume of clicks and/or eventual abandonment 
The logic that underpins search is often weak, meaning that shoppers have a hard time sourcing what they're looking for and are forced to either jump around from page to page, or in the worst cases, abandon their search altogether. The frustration involved in the overall product search experience can lead to a 68% abandonment rate according to Forrester.
Your online store should be consistently working behind the scenes in order to avoid pain points. Common issues include not correcting typos made by the shopper or not recognising a synonym. 
Regardless of the search query, as a retailer, it is your responsibility to always provide a next step within the customer journey.
So, for example, if a user searches for a 'blow dryer' instead of a 'hair dryer', you're still able to return results or recommendations that ultimately lead to a purchase. This is a simple fix that can be achieved using a product discovery platform.
Continuously collecting search data and harnessing this to update your typo or synonym library avoids on-site error. 
With intelligent logic working in the background, Kitlocker.com saw a 12% decrease in exit rate as a result of reduced navigation frustration.
3. Mobile UX 
If you delve into your conversion rates, you'll likely notice that desktop trumps mobile. On average, desktop conversion is 3.9% – more than double the 1.8% average rate for smartphones, despite m-commerce contributing to one-third of all e-commerce shopping in the UK. 
The primary reason for this is that retailers replicate the desktop experience on mobile. And with a screen a fraction of the size, product discovery becomes cumbersome, with the inherent tension between elements. 
The first step is to simplify the entire interface to ensure that navigation is straightforward. Hiding out of use elements and focussing on integral touchpoints such as a minimalist assisted suggest with intelligent recommendations. 
Further features such as ever-present filters remain visible when you scroll or filter overlays that are collapsible ensure no distractions from the core purpose when not in use all contribute towards a pain-free mobile experience. 
In essence, deploying instinctive touchpoints is the key to success. In fact, replicating the familiar interface used by Google, Instagram, Facebook and Twitter creates a more subconscious experience. 
By deploying this, retailers are able to minimise discrepancies between the channels users interact with every day and create a more unconscious path to purchase.
In A/B testing Equip4work saw a 17% increase in conversion on mobile as well as a 5.7% increase in average order value and a 9% increase in returning customers through touchpoint optimisation when the aforementioned features were implemented.
Getting the Ball Rolling with APIs
As a retailer looking to upgrade their tech stack it is important that various technologies support one another and any new additions to not interfere with your existing ecosystem. 
APIs allow retailers to plugin to white-glove experiences like product discovery, while maintaining full control. Integrating a new API inline with your existing stack means that you can customise and control the integration to ensure it fits seamlessly. In addition, rather than processing data in one continuous flow between, with multiple roadblocks along the way, 
Findologic's various APIs including Autocomplete, Search & Navigation JSON Response and A.I. Assistant will feed directly into other technologies.
Checkout 
How to leverage payments as part of your best-of-breed technology stack
The e-commerce sector is economically healthy and increasingly fit for the future. While consumers turned their spending power to digital in droves, e-commerce retailers were spurred to act.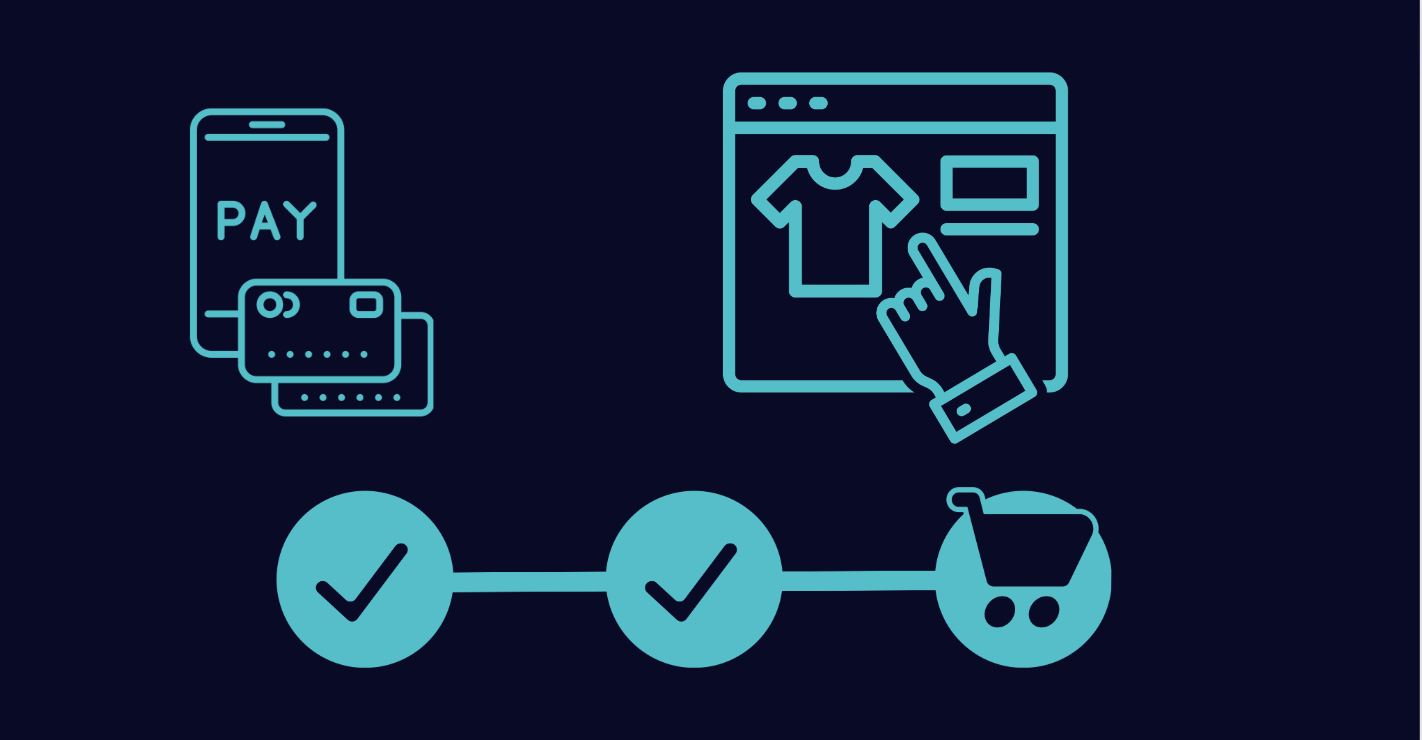 As more commerce shifts online, customers are expecting a seamless online experience throughout the entire interaction with your store – from finding the right products, engaging with customer support or being able to pay with their favourite payment method online.
But demand is a double-edged sword. New entrants are attracted to the market, which means increased competition. Even an established presence cannot be guaranteed forever, leaving no room for complacency. Around 80% of ecommerce merchants close their virtual doors for good each year. So, how do you make sure you are not one of them? 
Success or failure is dependent on many factors. Some, like price, quality, brand kudos, and the shopping experience are well known, and well resourced. Less understood is the importance of payments.
But businesses are increasingly turning their attention to the fact that a superior payment operation will be the way to secure ongoing growth. 
Here we look at how optimal checkout is fundamental to composable commerce, and how ecommerce merchants can optimise it to unlock growth.
Prioritising Payment Methods
Today's digital shoppers expect to pay in the way they want; and might go somewhere else if they can't; 56% of consumers say they have been permanently put off returning to a site because their preferred payment method was not available. 
But how do you know what the right payment method is? It largely depends where you are. Cards dominate e-commerce in the U.S, accounting for 75% of transactions; but in Germany, this is less than a quarter. Head to Asia and digital wallets are popular, leading the way in China, Indonesia and Thailand. It also depends who you're selling to, with preferences varying by age and gender.
Make Payments easy
Today's online shoppers are looking for a seamless experience. 52% of consumers say they have been permanently put off an e-commerce site by a complex checkout. One option to make it easier for them are prepopulated forms. These save a customer from inputting all their details again, while saved payment details further reduce the effort. 
Even better is to make sure that the checkout page resonates with your customers. Serving up a payment page in the wrong language or with the wrong currency is a pretty safe way of disappointing them. For example, 76% of Japanese consumers say they would not buy from a website that was not fully in Japanese throughout the payment experience. 
But local sensitivities are not the only concern. A payment page that looks completely different from the site you are buying from is jarring. So too one that is not optimised for the customer's device. Any of these factors can be enough to turn them away
Improve authorization rates
Few things frustrate an online shopper more than having their payment declined when there is no good reason. In APAC, 21% of people say they would not try to buy a product again after a false decline. Worse still, 37% would go to a competitor instead. 
Meanwhile, in the U.S, U.K, Germany and France, e-commerce merchants lost $20 billion in sales in 2019 because of payments that should never have been rejected. Of this, $13 billion went to competitors. Higher security standards mean not 100% of this loss can be mitigated. But a significant amount of revenue could be salvaged by optimising authorisation rates. Merchants, however, need to have access to data in order to understand why payments are failing and make these insights.
Enter markets the right way: with data
With some things, merchants can 'copy and paste' their way into new markets. Other aspects, like payments, need a more nuanced approach. If you're unable to navigate the local ecosystem and forge powerful partnerships, having the best product at the best price won't matter. 
You will also need to analyse your customer's payment behaviour in a granular way so that you can have intimate localised knowledge of their payments behavior. This can help inform everything from your pricing strategy, the payment methods you promote in specific markets and managing fraud and chargebacks.
From financial afterthought to driver of growth
Although payments may have been seen as an operational cost centre, a good payments strategy is increasingly being used as a lever of growth. And competitive advantages can be won or lost with payments. 
But therein lies the challenge for merchants. Where to start? Even if the appetite is there, few businesses have the internal resources to get to grips with these opportunities. The answer is to leave it to someone who knows how. If you have a clear idea of what you need going forward with your business, you will know what to look for in a partner that can transform payments from financial afterthought to driver of growth.
Checkout.com is a global payment solutions provider that helps leading brands drive more value from their digital payments. Purpose-built with performance, scalability and speed in mind, our modular payments platform is ideal for retail merchants looking to seamlessly integrate better payment solutions.
Supply Chain Management
It's been almost impossible to miss the coverage of global supply chain pressures over the past few months. Displaced shipping containers, rising shipping costs, a shortage of drivers and packed warehouses have all contributed to what has been described as the 'perfect storm', especially prevalent during the sustained peak demand season.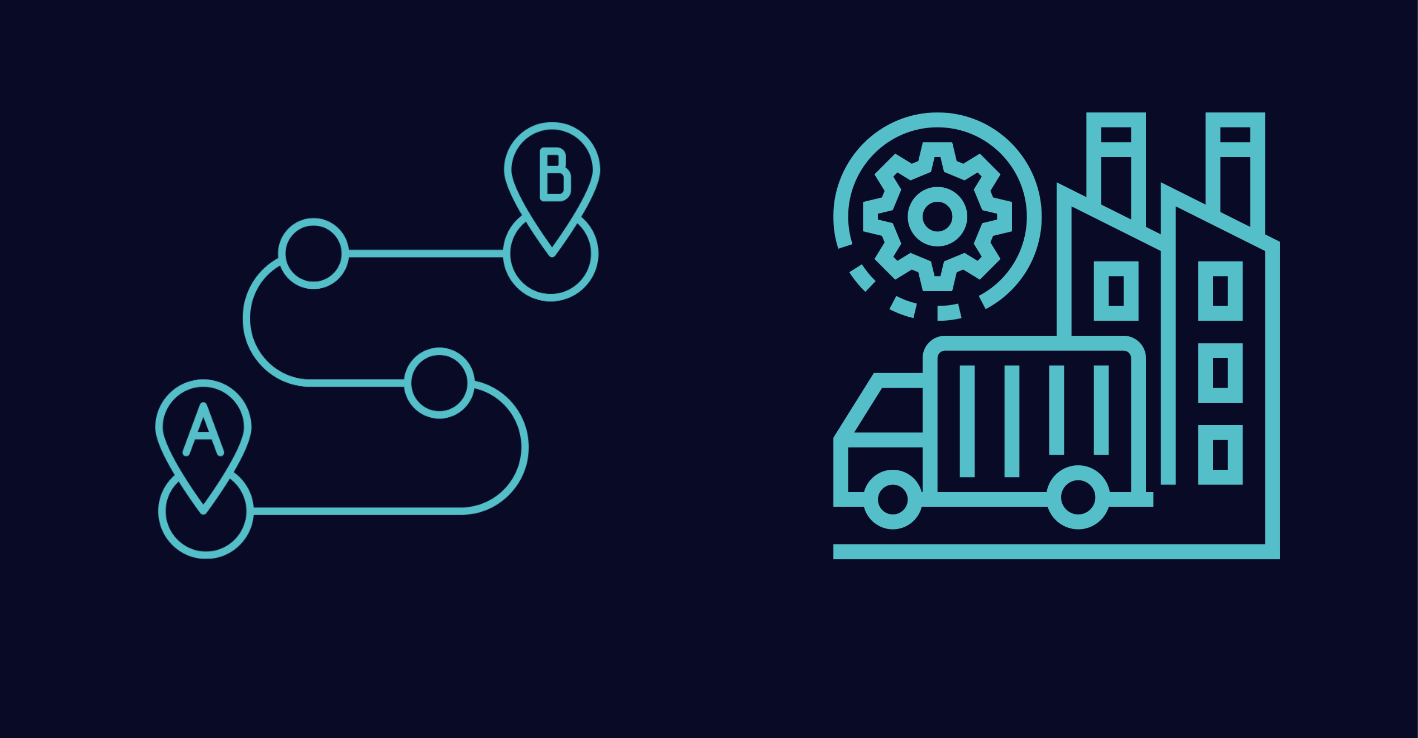 Combine this with consumer expectations for expedited shipping options and optimising your supply chain to both mitigate pressures and deliver on your promises to customers firmly comes into focus and you're presented with a challenge. 
Optimising your supply chain can take various forms. Taking a holistic approach to your complete supply chain will help you make marginal and impactful gains. 
Firstly, API-enabled integrations between online sales platforms and inventory management systems (IMS) creates fast flow early-stage order management. Real-time inventory management means that you'll have instant visibility of stock levels across your full product range and marketplace suite so that you know exactly which products to replenish and the volume to which to do so.
This data also enables forward planning of inventory management so that you can be ahead of the curve for higher demand periods especially against the backdrop of logistical pressures.
Technology can also power clever geolocating of stock for efficient on-time delivery. By storing products across multiple fulfilment centres in various regions you can circumnavigate potential delays at borders and customs, and also lower the delivery cost to your customer resulting in more transactions.
Limiting friction between purchase and delivery where possible can help win new customers and ensure repeated custom. A well-oiled warehouse management system (WMS) can prove pivotal to success.
Then there's physically getting your products in the hands of your customers. A full-stack supply chain solution increases your access to a global carrier network and broadens your last mile delivery choices.
Your choices will be dictated by what's important to you and your customers. Whether that is speed, reliability, or eco-friendly options like EV fleets, access to a global carrier network via an integrated software platform gives you the best chance of meeting requirements with solutions.
Talking Technologies 
Full-stack fulfilment solutions help connect all the supply chain dots. A fully optimised supply chain is reliant on technologies talking to each other throughout the end-to-end journey. 
Full flow comes primarily from API enablement. Integrations between online stores & marketplaces and software driven fulfilment can happen fast and seamlessly to connect product listings, stock levels and locations straight into the order fulfilment process. 
This saves valuable time, creating efficiencies and happens behind the scenes without much in the way of human intervention. 
A full-stack fulfilment solution also talks to technologies powering last mile, making decisions based on logic to automatically select the best courier based on preferred delivery options and price points. 
Tech-driven supply chain optimisation sits right at the core of the wider ecommerce tech stack. Getting it right can affect real positive change in your e-commerce proposition, so look for a solution that connects the right channels with the right systems and carriers to increase your customer reach without the growing pains.
Who can benefit from supply chain optimisation? 
In short, all retailers can benefit from supply chain optimisation. The question for retailers is: what areas are your priorities for optimisation? Knowing this will help calibrate your focus on where technology can supercharge your performance and make the biggest impact. 
As an example, our friends at Huboo have been working with a client that supplies Covid test kits. They were experiencing a number of challenges in the supply chain, starting with the rapid scaling and spikey nature of demand, and the complex nature of their picking, packing, posting and returns process. 
Powered by Huboo's full-stack fulfilment technology, they were able to connect their online store in minutes, ship in large volumes of kits at pace, work with a provider adept at complex fulfilment solutions and effectively handover the whole order process end-to-end through one platform.
This enabled rapid and sustained growth in fulfilled test kit orders, overcoming their challenges and ensuring a quick turnaround in test results.
What are the benefits? 
Retailers can reap many benefits from an optimised supply chain solution, but predominantly and frequently the main success metric is streamlining. Slickening the end-to-end through technology reduces manual task management, enhances forward-planning through better visibility, and increases customer delight and drives repeat business through a delivery framework that meets increasing customer expectations. 
These benefits have a two-fold impact on commercial performance. Growing the top line through repeat business and a better chance of referrals from your customer base, and protecting margins to help the bottom line with greater efficiencies driven through automation and effective planning. 
Reducing overheads and ongoing costs through a technology-driven approach means you can also allocate, should you choose to, more resources to growth and performance marketing channels to acquire new business. 
This streamlining can also result in an uplift in another significant component, time. Retailers from the small & mighty right the way through to your established enterprises can benefit from the time given back so that they can focus on the areas of the business that are growth enablers.
And to further propel growth, a winning global supply chain solution can position your brand into new territories quickly and impactfully without high associated activation and ongoing costs.
Final thoughts
So there you have it. A not-so-short guide on composable commerce and what we believe are the top three kinds of technologies that merchants should consider if they want to supercharge success. 
This might look deeply intricate and complicated, but when you break it down, you're just looking at plugging API solutions that work harmoniously together to give you and your customers the very best result. 
To reiterate: composable commerce is increasingly popular and whether retailers know about the buzzword or not, they're doing it. One-size-fits-all solutions are simply not adequate in keeping up with the demands of consumers and the challenges in. theglobal economy. That's our position, anyway.
If you want to learn more about building a composable commerce ecosystem, and how you can convert your traffic into sales then be sure to speak with us today!